So you want to know how to create a blog?
Well, you have come to the right place, everything you need to know to get started is here!
This is a free, step by step guide on exactly how to create a blog.
Before we begin, let's first just take a quick look at the outline of the contents:
What Is A Blog?
Should You Create Your Own Blog?
Picking A Name For Your Blog
Find A Host For Your Blog
Blog Customisation
How To Create a Blog Post
Promoting Your Blog
How To Monetize Your Blog
The Best Plugins
Conclusion
So now you know what's included, let's get into the guide so you'll have all the knowledge you need to get set up.
What Is A Blog?
A blog is a website that produces content, typically on a specific subject or niche.
The content has what I call a more 'laid back' style in comparison to other forms of websites.
This makes your site more approachable to people interested in the topic(s) you talk about.
As a result, you can grow and scale your blog to reach interested viewers.
This is good news for those of you who want to make good money from your blog (discussed later)
 Should You Create Your Own Blog?
It's never been easier to learn how to create a blog, this is amazing considering the earning potential.
Not to mention the chance to promote your brand or business.
You don't need to be an expert, the only thing that matters is your passion for a particular topic.
Another perk is you can create a blog wherever you are in the world!
Let's look through a few of the most appealing features of creating a blog:
Document your story– Sharing what you're knowledgeable about with the world is a beautiful thing and should never be underestimated. People are always eager to listen if they can learn something important to them, strive to be the best in your given interest!
Developing a community- Imagine how satisfying it would be to know that people took time out of there day to read what you have to say. Like-minded individuals from all corners of the globe coming together to talk to you and each other about there experiences.
Make money from home- As you can imagine, blogging can be quite lucrative, whether you decide to do it full time or part-time. Not only that but it's a form of passive income, once you have everything in order you can write a few blog posts a week and earn money from those posts for years to come.
Hopefully, it should now be clear in your mind whether or not it's a good idea to start.
With all that now out the way, let me guide you through how to create a blog.
Picking A Name For Your Blog
First things first, when you create a blog, you're going to need a topic(s).
No idea what topics you want to write about?
Let me see whether I can help you, blog's are commonly about 1 of these 3 things:
A passion of yours- We all have topics we are interested in. Whether its pogo hopping, skydiving or even watching crazy cats videos online, there is an audience out there that share the same interests as you. This is normally the most popular, simply because if we like something a lot, we know a lot about it.
A blog about yourself- You may think that writing solely about yourself can give off the wrong impression, however, this is very popular in the world of vlogging. Successful vloggers document travels, adventures or perhaps an unusual/interesting job they may have.
An experience/experiences you've had- People read blogs to resonate with others, learn or perhaps to have a laugh. Writing about your life experiences can be valuable to people.
Now you are going to need to come up with a name for your blog.
It doesn't necessarily have to involve your topic, but it needs to be recognisable.
What I mean is that someone should be able to look at the name of your blog and have a good idea what it's about.
Spend some time thinking about this, as it's what your subsequent community will remember you by.
Some factors you should consider are:
Quirkiness– I think it's very important to stand out, being quirky can help you. However, don't try to be so different that people miss the point or even worse become confused as to what your name is about.
Play on words- Some people like to be clever with there name and I think personally it's a nice touch. It also helps gives some insight into the writer and can leave an impression on the reader as a result.
length-This is not as important but is something to bear in mind. The longer the name the harder it is for people to recollect. Not only that but it doesn't look as professional, this is because long names are more likely to be available domain.
This brings me to my next point when you create a blog, domains.
For those of you who don't know, a domain is simply your website's IP address.
Your blog name and domain must be the same to avoid any confusion.
You can check whether the domain you want is available below the tips.
A few tips:
Try your best to get a .com domain as these are the most frequently searched
Buy your domain from your hosting company (explained below) to keep things simple for future reference.
Now you have established your name for your blog, we can move onto the next section.
Finding A Host For Your Blog
You may think that we are about to get into the technical stuff, but I can assure you that it's very simple.
In fact, learning how to create a blog is probably one of the easiest business models to set up online.
I'll take you through the whole process step by step to make it as easy as possible for you.
A host (also known as "network host") is a computer or alternative device that communicates with other hosts on a network that sends and receives data, applications, and services.
Not only do we need a host, but the software also known as a CMS.
A CMS stands for a content management system, the title is fairly self-explanatory.
This just means a platform in which you create, manage and publish your content, including any products, images, etc.
When it comes to choosing a CMS, there is only one choice I recommend.
WordPress.
The fact that over 60% of websites use WordPress says it all.
Luckily enough Wordpess is combined with most hosts to save going to different providers.
Please note that without either you won't be able to make an online blog.
So we've established that we need both and what we need them for.
The next question is who will be our host provider.
There are many companies offering host packages however, I've whittled it down to one based on applying these three factors:
Price (value for money)
Ease of you (for my fellow non-technically gifted friends)
Customer service
When taking these factors into account, I believe your best option is Bluehost for these reasons:
WordPress has been recommending Bluehost since 2005
They proudly display on their homepage that they host over 2 million blogs/websites.
They have a money-back guarantee for unsatisfied customers
One of the only hosting companies that offer payment monthly (most are annual)
24/7 customer support
Built-in marketing services, tools and paid ad credentials
Hassle-free WordPress installation on all accounts
They currently host my site and have hosted a few of my previous sites.
(I have a created a full Bluehost review if you want to know more)
Just so you know that I would never recommend a product or service that I haven't tried myself.
I advise that you open one of the links in a new tab so you can use this guide to work your way through.
Disclosure: Bluehost compensate me if you purchase a plan through any of my links, thank you in advance if you choose to do so.
Step 1: Click here to get access to the offer below and press 'get started'

Step 2: Choose A Plan
You'll be taken to this page below where you have the option to choose a plan, press select when you've found the one right for you.
Know that all offers are great value for each plans respective features.
If your struggling to decide, pose this question to yourself:
How far do I want to go with blogging?
This should help give you an idea of what plan to start with.
Just remember that you can change your plan in the future if you need to!

Step 3: Enter Your Blog's Domain
Here all you need to do is enter the domain name that you decided on earlier into the box on the left.
Simply hit next to be taken to the registration page.

Side note: If you haven't come up with a domain name yet, you can always click the pop up that says 'Choose domain later' button.
This means you can get everything else important setup and not is pressed into thinking about it too much.
Step 4: Fill Out Your Details On The Registration Page

After filling this in, you will have to choose your package to add ons and further information.
Some things to consider:
All of the add ons available to you are not compulsory or essential for every blog. It's down to you what you features you would like. Don't forget that you can always leave them all unticked and add them to your blog down the line.
Make sure you read all the content in the 'more information' link if you are interested in any of the add ons.
The longer your subscription, the cheaper the monthly rate. Again, think back to the question I posed to you earlier to help you decide.

(An example in dollars)
After creating a password and filling in your card details, you'll officially have a blog!
Blog Customization
So I'm going to assume by this point you have you hosting, domain and CMS all sorted.
So now you know how to create a blog, let's look at the next few steps.
Next up is customisation.
I've split this topic down into section so we can tackle each one at a time.
Appearance
This is what the WordPress administration area looks like, here you'll find everything you need to customise, create and grow.
Changing your theme just essentially means changing the layout of your blog,.
Themes can be found under the 'appearance' option on the side as shown below.
Most of the themes that come pre-installed are free and of great quality.
You have a choice of three routes you can take in regards to the theme, buy one from sites like Themeforest, have one developed to your liking or use a free theme!
Each varies in terms of price, quality and uniqueness, so spend some time to think about it and identify which one is right for you.
Having said that, no matter which option you pursue, make sure you have these important features in mind:
Responsiveness
Mobile friendly
Support (if you pay for a theme)
Good reviews (bought or developed)
Easy to navigate
All of these points furfilled properly will do your blog a world of good.
The nicer it appears, the better the impression on readers.
If you are just starting, I recommend sticking with a free theme and changing it later down the line if you wish to do so.
To equip a new theme simply hover over the one you like and click 'activate'.

How To Write A Blog Post
Now let's get into how to create a blog post.
It's a very simple process that I'll take through.
On the left-hand side towards the top hover over 'posts' and click on 'add new'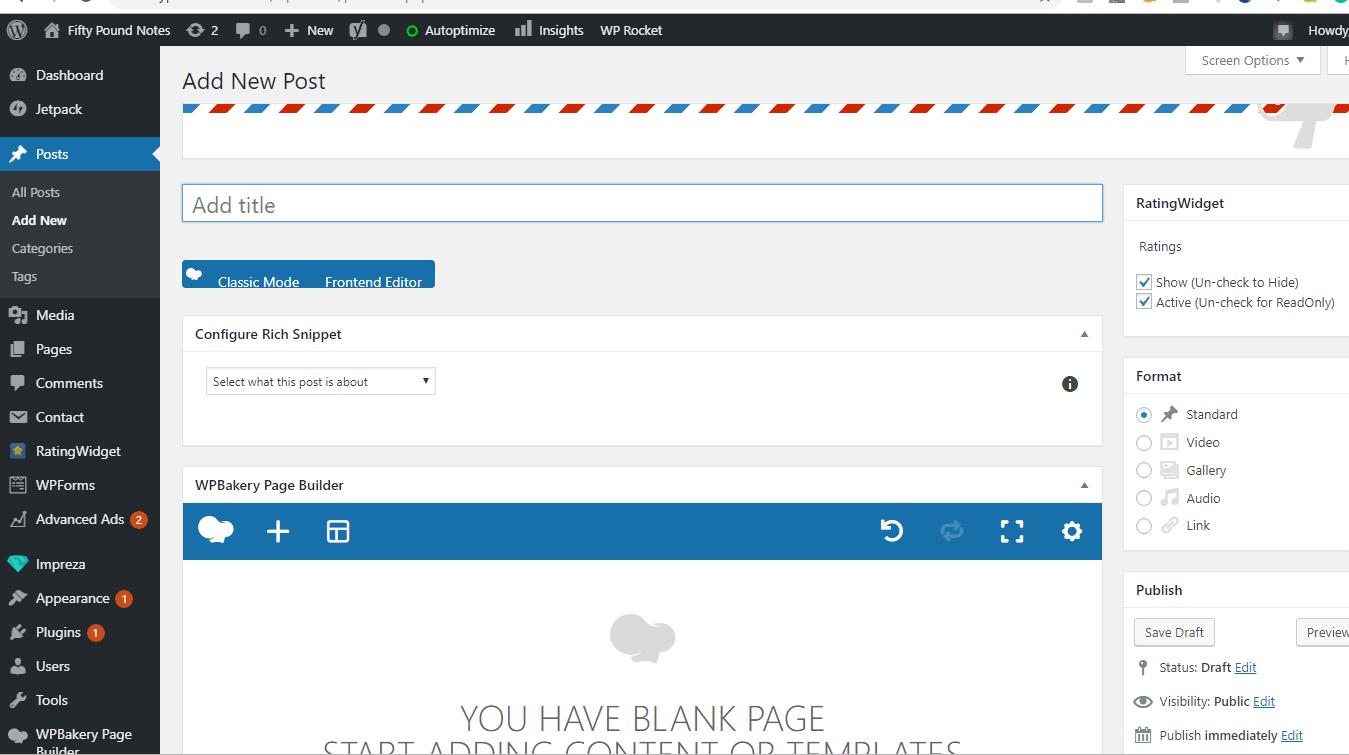 Once on the page above, add a title at the top.
Then scroll down and press the blue box that says 'add text block'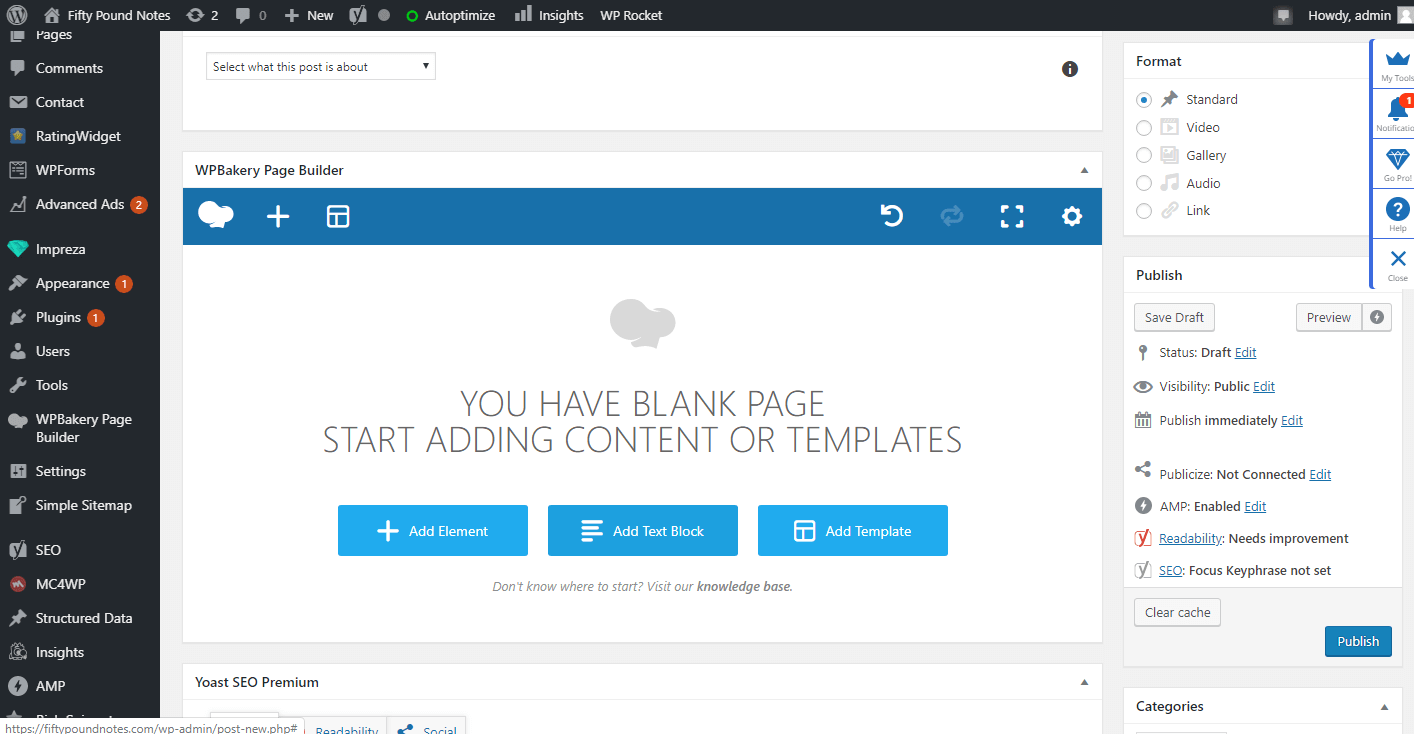 Once you've pressed this, it will produce a text box with some prewritten text, simply hover over the box and click the green pen.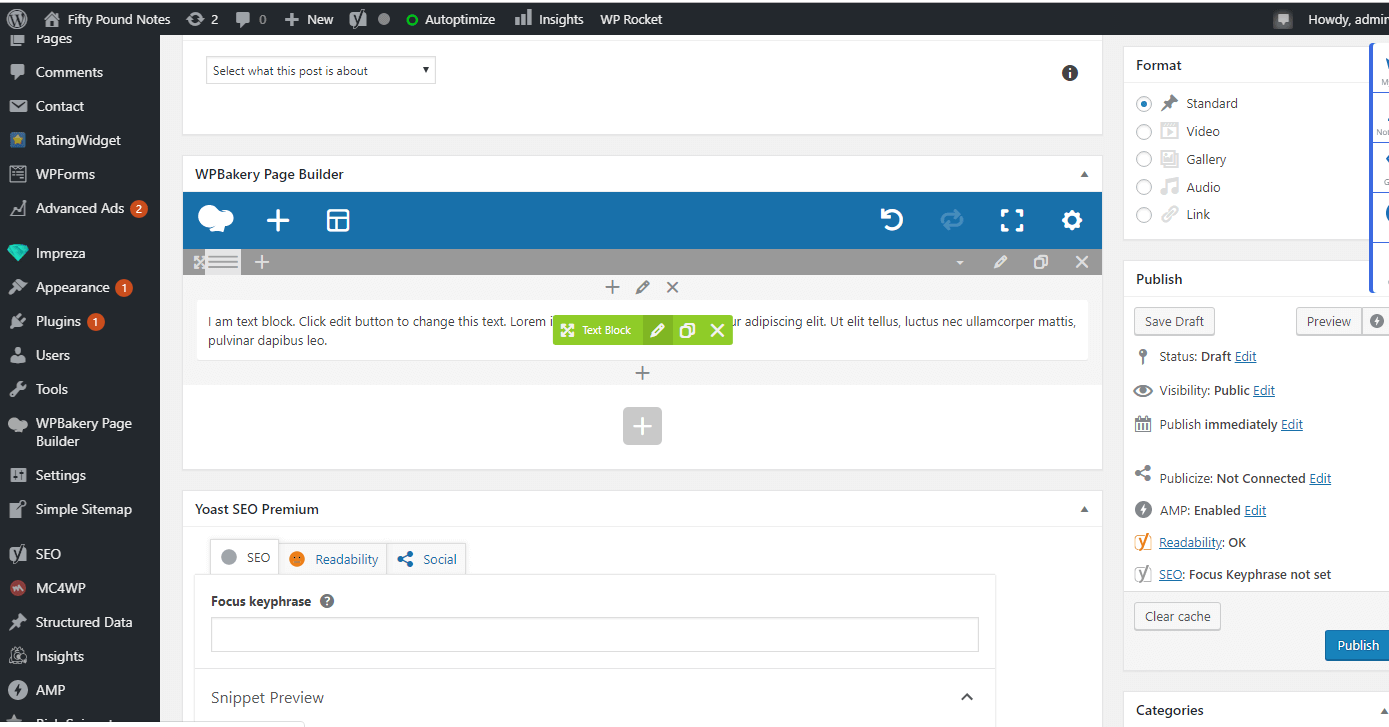 A text box with writing tools will pop up, all you need to do is clear the text and you're ready to write!
To publish a piece of content, hit 'save changes' then click publish on the right-hand side.
Please note: Make sure you do this each time as it will delete your content up until your last save (I've forgotten and paid the price many a time).
Now you know how to create a blog post, let's look content creation.
Content Ideas
Even though you've chosen to write about a topic that interests you (hopefully), we can all be stuck for ideas on what to write about on our blogs.
(when creating a blog post, try to consider these each time)
I've compiled a list of questions to help spark some creativity from within you.
What articles have been successful and popular relating to your niche?
What questions do users consistently ask?
Is there anything in the industry that no one what to tackle?
Is there a viewpoint you hold that is contradictory to popular opinion?
What would you enjoy reading about?
So in essence, just deep dive into the topic. Leaving no stone unturned, this is essential for creating a profitable blog.
Promoting Your Blog
Once you've produced some content and are happy with the overall appearance of you blog, its time to get promoting.
Here a breakdown of the best ways to attract attention online:
Social media– What better way to get your blog out there than sharing it on social mediums like Facebook, Twitter Instagram etc. A good place to start would be sharing it on your account as well as posting on other pages in your niche.
Email marketing– In short, this is a form of marketing used to retain readers of your site, not so much to attract new visitors. However, this can still be very powerful none the less.
Google AdWords– This is a great way to promote articles on your blog for money. All you need to do is set up an AdWords account, create a campaign using keywords (What the post is all about), set a budget and then your good to go. You are only charged when someone clicks on your link!
These are all great ways to get your blog out then, the process of getting people to your site consistently will take some work but you do you reap the rewards!
Bringing us nicely onto the next section.
How To Monetize Your Blog
If you haven't been made aware already, your blog can become the epicentre of your business and your subsequent community, opening you up to a whole host of new opportunities.
There is a whole host of ways in which you can make additional money.
1. Sponsored Blog Content- Writing for another blog in the same niche
2. Affiliate programs– Becoming affiliated with other companies is a great way to make money. You typically promote there product or service in exchange for commission providing they purchase what you promote.
3. Blog Advertisements– Programs like Google AdSense will automatically put ads on your site when you sign up. All you need to do is copy some code onto your site and your good to go.
4. Sell Online Courses- Digital products, particularly courses are a great way to make money from your knowledge. Not only that but you can sell it an infinite amount of times with no inventory or overheads.
As you can see, there is an endless opportunity as a result of learning how to create a blog.
I haven't listed them all and people are always finding innovative ways to make money.
The Best Plugins
The last step in learning how to create a blog has to do with implementing plugins.
Plugins are exactly as they sound, additional software that can be integrated into your blog.
To access them simply hover over plugin button and you'll find you can view your current 'installed plugins' and 'add new' to search for more.
To search for a new plugin all you need to do is go to add new and then on the right-hand side you'll see 'search plugins'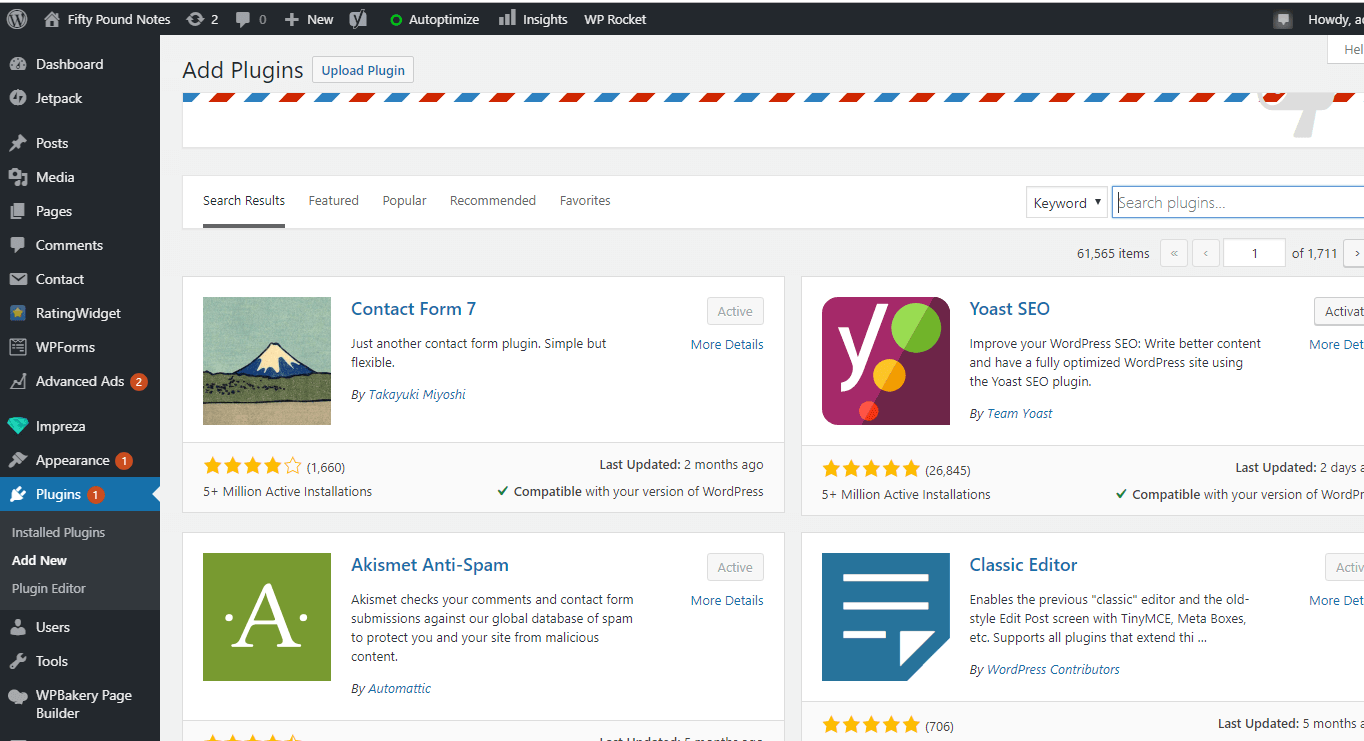 Although there are tens of thousands of plugins there are only a few that most blogs need.
Yoast– Helps with all-things SEO (explained in other articles)
Jetpack- Bring a whole host of feature in one place (including monetization etc)
MailChimp- helps you build an email list (click here to learn why an email list is important)
Securi- Site security
Wp-fastest cache- Improves site speed
The other apps are all optional and you can choose which ones you think are important for your particular blog.
So that's it you have just learnt how to create a blog!
I hope you found this helpful, it took me a great deal of time to put this one together.
If you are interested and want to support The Money Equation, consider checking out some of our previous posts.
Money management app reviews:
Educational:
Note: If your stuck don't give up, you can always send me an email.
Dan@the-money-equation.com
Put the subject line as 'Need help on how to create a blog'
I'll do my best to reply ASAP
Also if you think this guide on how to create a blog had anything missing, be sure to comment below so I know where to improve.