In this app analysis, we are going to do a complete Ibotta review.
This has been one of my most requested apps to analyse as of recent so this should make for an interesting review of Ibotta.
My promise to you is that this Ibotta review will be completely unbias and comprehensive (don't worry I won't make it boring).
This review of Ibotta involves looking into what exactly Ibotta is.
Whether or not it is easy to use.
Lastly, whether or not it's actually worth downloading.
Without any further ado, let's get into this Ibotta review.
What Is Ibotta?
It wouldn't make sense to do a review of Ibotta without including some background information and what exactly the app aims to achieve.
First, let's take a look at how Ibotta came to be what it is today.
Ibotta was founded in 2012 by Bryan Leach and was created to act as a cashback service.
Fast forward a few years, Ibotta is now one of the most frequently used shopping apps in the US.
No less than 35 million people have downloaded Ibotta.
The app is partnered with over 1,500 leading brands and retailers.
The company also claims to have paid back over 600 million to users in the past 7 years.
The Ibotta app aims to make ' every purchase rewarding', having expanded over the years into cashback on items such as alcohol (2014).
Not to mention the implementation of rewards for online and mobile purchases (2016).
The company today now branches out into full payments through the Ibotta app, whilst instantly receiving cashback.
Quite an impressive history as I'm sure you'll agree.
Next in this Ibotta review, we are going to look at how easy it is to use.
Is Ibotta Easy To Use?
When analysing any software it's important to understand how easy the app is to use, so that's exactly what we are going to do in this Ibotta review.
I'm going to use a combination of my own experience with the app, an the opinions of other users in general.
I used the app for 1 week whilst conducting my take on the Ibotta app.
Over the course of a week, I received rebates for all of the 20 branded products I bought (they were all household names).
You simply find the right category, watch a 15 second ad (can be annoying) and repeat for each item.
As you can see from the images below, the navigation is neat and tidy therefore I would consider it to be easy to use.
when I did some research into other users opinions on the usability of the app the general consensus was that the interface could be tricky at times.
This particular review is from trustpilot's reviews on Ibotta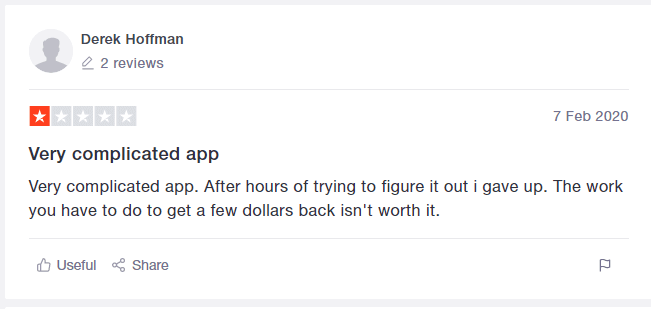 Similar opinions can be found on SiteJabber's reviews on Ibotta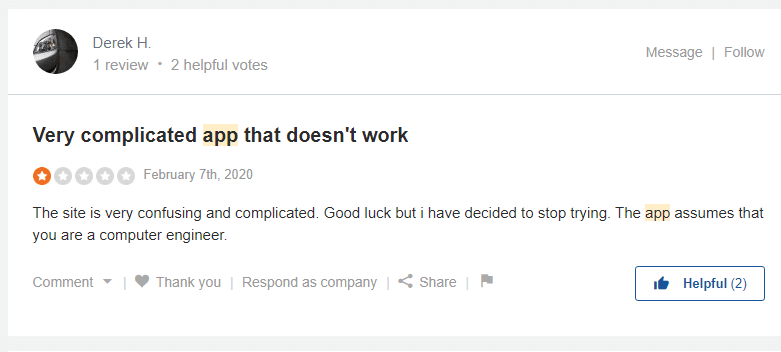 The majority of the reviews focus on another element which I will touch upon next in this Ibotta review.
Cashing Out On Ibotta
Now in the majority of Ibotta reviews I have seen on websites, they don't talk much on this area.
I'm going to because this would not be a transparent and comprehensive review of ibotta if I left this out.
Now I must admit I did not use the app long enough to test the cash out process which is available when you reach $20.
However, when I do research for review articles I always find it useful to incorporate the opinions of others to give you a clearer picture.
In conducting my research, I have found an overwhelming amount of negative reviews in relation to the cash out process.
Again, I'm going to enlist the help of websites that a based solely around the reviews of software/products.
I  did look into individual websites but found a consistent trend of positive feedback on this aspect of their Ibotta reviews.
I'm going to go out on a whim here and put that largely down to their partnerships with Ibotta (they were all filled with affiliate links).
So with that said, let's take a look at Sitejabber's reviews on Ibotta in relation to it's cash out experience.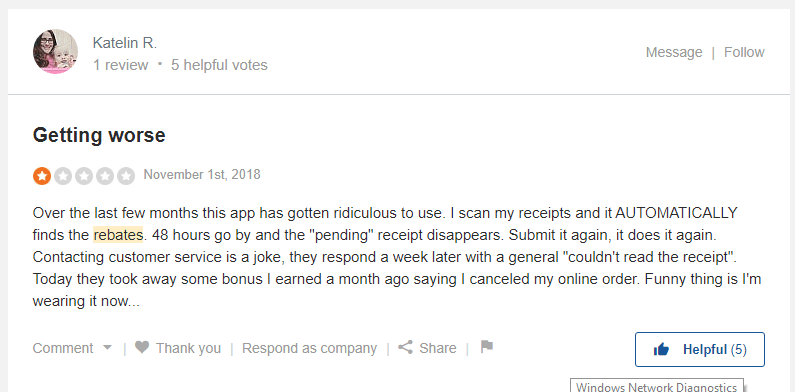 I must admit this next one did make me laugh.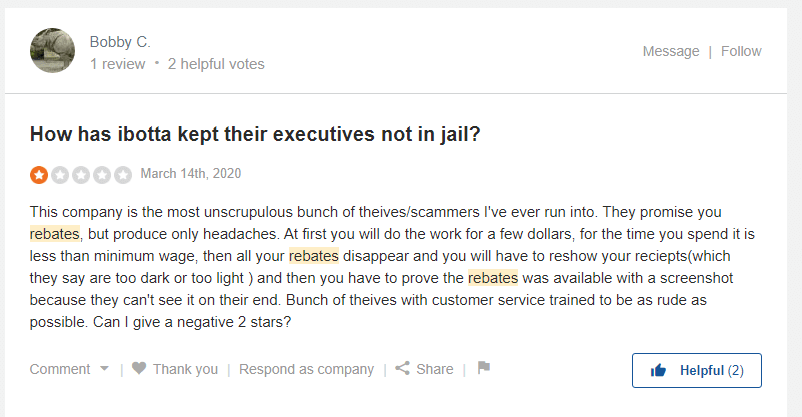 It's much the same story on Trust Pilot…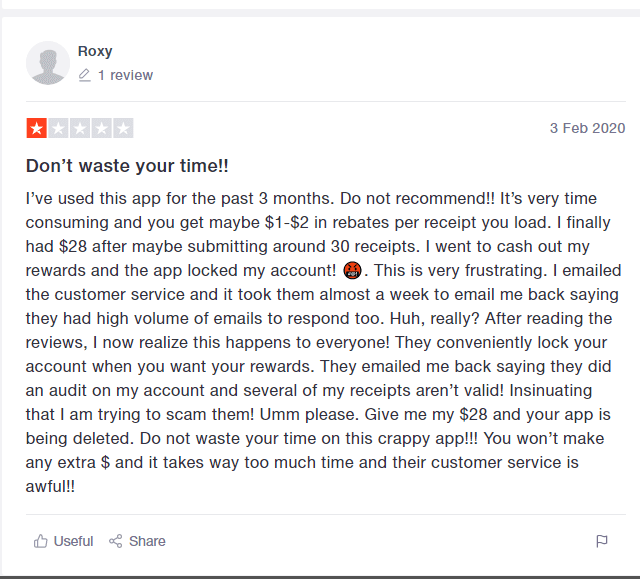 There was also a reoccurring theme of users who had the Ibotta app for a long time but had seen a recent decline in it's overall service.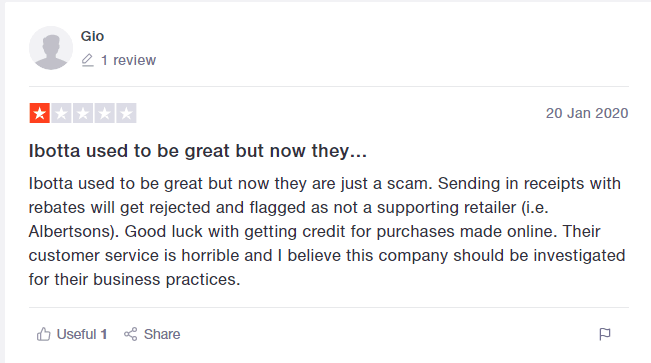 I could post more but I'm sure you get the point.
Now we have looked at all important aspects of the app in this ibotta review, let's move onto the important question.
Is Ibotta worth it?
In my own experience with the app, it performed okay.
Having said that, there are some features that I didn't explore such as the cash-out process due to it taking to long to reach $20 (I'm lazy I know).
When it comes to answering the question is Ibotta worth it, I feel inclined to place a significant amount of weight on it's user's experiences.
The overwhelming response is that it takes a fair amount of time to reach the cash out process and even when you do, there is no guarantee you'll receive it.
It's frustating.
So I suppose the answer to the question is it depends.
Are you willing to risk investing your time (albeit not a lengthy process) to log all of your receipts when you may not receive the reward(s).
If yes, then by all means give it a try (make sure to let me know in the comments below if you do).
If not, then I suggest looking for another app that is similar.
My Final Thoughts On This Ibotta Review
I must admit, overall i'm quite disappointed.
Ibotta has a great history and has made an effort to advance cashback apps.
despite my personal experience with the app being okay, the majority of users seem to strongly disagree.
It would be foolish to ignore the opinions of others when they are so clear cut.
For that reason I can't possibly promote or reccomend this app to you unless you want to take a risk.
What you make of this Ibotta review is down to you, I hope you found it insightful and unbias.
If you enjoyed this article, I review other Software product reviews weekly, such posts include:
I also have numerous posts on other personal finance topics besides related software reviews such as:
P.s Be sure to comment if you enjoyed this review of Ibotta or equally if you think I missed something!