This Triodos Bank review I've created for you today would not exist if it wasn't for the British Bank Awards.
As you can imagine, it's very hard to stand out in an area of finance today that is so competitive.
Triodos seemed to have ignored this fact and they have done so to great effect.
Not only did they come 2nd to Starling Bank for the Best British Bank award, but they also won the title of 'customer service champion' too.
So just how good is this small challenger bank and is it worth opening an account with them?
Before we get into this Triodos bank review, let's take a quick look at the table of contents:
What Is Triodos Bank?

How Does Triodos Bank Work?

Setting Up A Triodos Bank Account

Features

Is Triodos Bank Safe?

Interest Rates And Fees

Triodos Bank Reviews

Pros And Cons

Conclusion
Now you know what's in store, let's not waste any more time and dive straight into this Triodos Bank review.
What Is Triodos Bank?
You can trace Triodos Bank's origins back to the Netherlands, in which it became successful for its unique mission in the banking industry.
According to Triodos, their mission is to 'create a society that protects and promotes quality of life and human dignity for all'.
Triodos achieves this by providing ethical financial products, individuals and businesses are able to use money in a way that benefits the environment.
I guess you could look at Triodos as a 'green bank' that focuses on sustainability and ethical practice.
This challenger bank also has some attractive values, which are:
Excellence– High-quality services and products, striving to be one of the best in the banking sector.
Transparency– Triodos is crystal clear about where your money goes.
Sustainability– Triodos only finance companies that focus on culture and the environment.
Entrepreneurship– Always developing innovative ways to finance sustainable companies, entrepreneurs and initiatives.
Now we know what Triodos Bank is, how exactly does Triodos Bank work?
How Does Triodos Bank Work?
Triodos is what's known as an online bank because you guessed it, they have no psychical branches.
This is common for challenger banks as they believe in evolving away from the traditional banking style.
By providing a modern approach to finance, at least in theory, they gain some of the market that more 'old school' banks neglect.
According to Triodos, they have over 700,000 customers using their cards and app.
Just like any other bank, Triodos offers business, joint, charity and/or a personal account for users.
When you complete the signup process (more on this next) you'll receive your card through the post.
Once it's arrived, you can activate it via the app allowing you to set up direct debits, Apple pay, standing ordered etc.
We'll touch upon some features later on in this Triodos Bank review, but for now, we'll take a quick look at the signup process.
Setting Up A Triodos Bank Account
(Note: If you have already signed up, skip this portion of the Triodos Bank review)
The signup process takes place purely online and can be done via the Triodos website.
This example will be showing you how to set up a personal account, requirements and processes are different depending on the account you want.
Before we get started, here are a few things you need:
Be aged over 18 and a UK resident
Have no county court judgements against you
Have not filed for bankruptcy, a debt relief order or an individual voluntary arrangement in the last 5 years
Be sure to read the terms/conditions and here are a few things you'll need at hand:
 Your previous address (if you have moved in the last 3 years)
Details of your income and expenditure
Your national insurance number or tax identification number
Head over to the Triodos, click on the menu and press 'I am an individual'.
From here you can click on the 'personal account' option.
Read the features of the account and as you scroll down the option to apply will appear.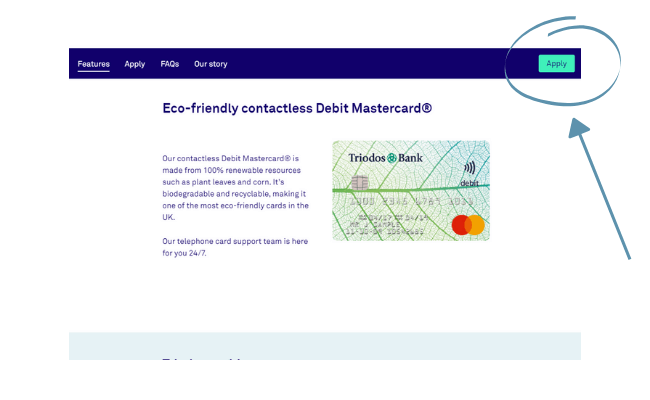 Now you can start your application and fill out all the required details.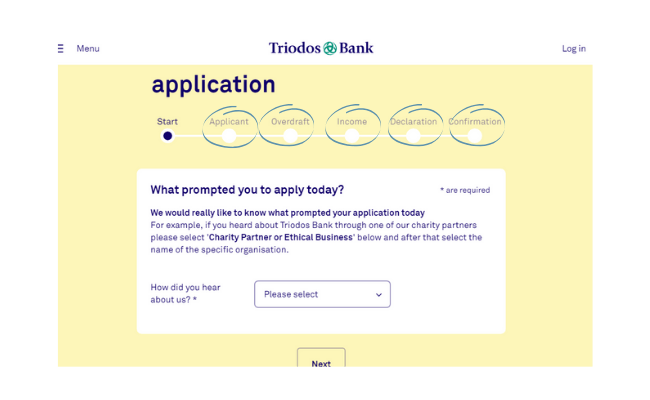 After you have completed this, your details will be verified and a card will be sent.
Now all you need is the app which is available on either the AppStore or Playstore depending on your device type.
Then you can connect your app to your account by filling in your Digipass.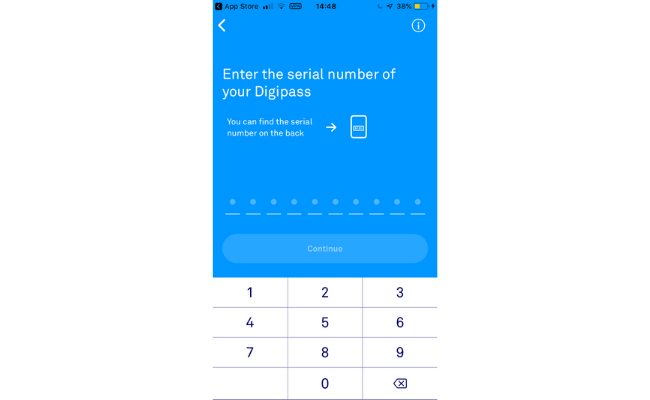 From here you'll then be able to access the app's main interface allowing you to use all the features I talk about later on in this Triodos Bank review.
Is Triodos Bank Safe?
This is an important question to answer, particularly in light of the Uk leaving the EU.
As I mentioned earlier, Triodos is a Dutch bank and therefore adheres to different laws and regulations than Uk banks.
In light of Brexit, Triodos decided to create a new subsidiary company in the Uk owned entirely by Triodos N.V.
This means they now adhere to English legislation (i.e regulations), in doing so this makes them eligible for the Uk's financial compensation scheme.
Triodos used to be covered by a Dutch compensation scheme which protects personal accounts up to €100,000 (£83,500).
Joint accounts would have also been protected up to €200,000.
Now they are covered by the Uk compensation scheme (FSCS), personal accounts are protected up to £85,000 and joint accounts up to £170,000.
That means Triodos would have only just fallen short, however, exchange rates and communication with Dutch authorities is something you would've had to factor in.
Prior criticisms of Triodos bank revolved around whether or not they were fully committed to there Uk division, I like to think this move silenced these accusations.
In short, your money will be safe and secure with Triodos.
Interest Rates And Fees
Triodos make it perfectly clear and do not try to hide the fact that they charge £3 a month for a personal account with them.
Here's Triodos's take on charging a monthly fee-
"Typically, banks offer 'free' bank accounts with hidden cost and high charges on overdrafts- often with financially vulnerable customer footing the bills"
Certainly, a fair point that very much aligns themselves with their values of being a transparent bank.
(Note: Triodos says this fee goes to towards the cost of running your current account)
In terms of savings and ISAs accounts, Triodos provide 6 different accounts, 2 for children.
Let's take a look at them.
Everydays Savings
Upto 0.30% Gross AER
Regular savings
Upto 1.26% Gross AER
Monthly deposits from £25 to £500
Fixed Rate Bond
Upto 0.40% Gross AER
Variable Rate Cash ISAs
Upto 0.40% Gross AER
Tax free
Right Start Saver
0.55% Gross AER
Junior Cash ISA
1.50% Tax Free AER
When it comes to overdrafts, Triodos has a very simple model.
Here's an overview:
Maximum Overdraft Amount– £2,000
Flat Interest Rate– 18% EAR variable for each day you use it
Example– A £2000 overdraft (based on 18% EAR variable) will charge you at the most 91p a day or £30.58 a month.
Triodos Mobile App
Like most banks today, Triodos has a full app in which you can do all whole host of things.
After you open an account, you can simply link your account to the app by entering a DIGI code in.
Here's a quick look at what you can do via the app:
Check you balance a recent transactions
Discover inspiring lenders near you
Make payments to new and existing payees
See all of your accounts in one place
Log in using touch or face ID
These are some handy features to have in your pocket.
Triodos Bank Reviews
So far in this Triodos bank review, I've only including facts and my personal experience with the company.
To provide a more complete and well-rounded review, I like to include the opinions of other users.
This Triodos bank review will be no exception.
These Triodos bank reviews have come from a mixture of sites today, namely Trustpilot and Reviews.
Here's a quick overview so we know what to expect.
(Note: Image courtesy of Trustpilot's reviews)
As you can see, Triodos has a rating of great with a fairly even distribution of ratings below 5 stars.
As always we will take a look at reviews in more detail because the overview doesn't tell the full story.
First, let's take a look at some of the positive reviews.
This review touches on an important point that a lot of customers using the 'big four' feel a lack of attention due to their user base.
What Triodos has going for it is in comparison to most banks, is it has a small customer base.
In theory, this allows more time to help customers and provides a tailored experience.
I touched upon the point earlier in this Triodos bank review, that they won a prestigious customer service reward, perhaps this is one of the reasons why.
Not taking anything away from as their values are very much aligned with great customer service and transparency.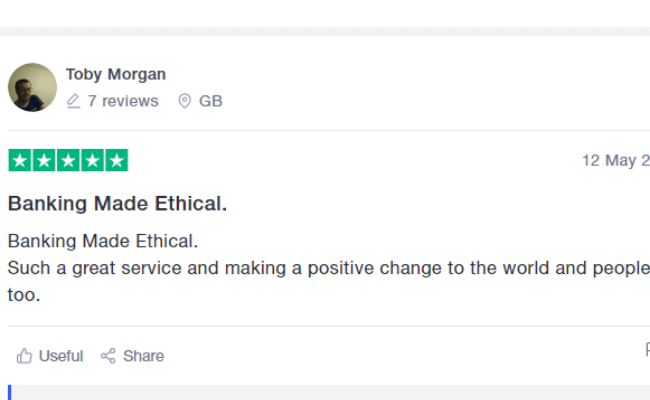 Undoubtedly Triodos's main strength is their attention to ethical products and investments in improving/maintaining the environment.
This is a change in the financial industry that many people want and the lack of banks failing to make this change only improves Triodos's position.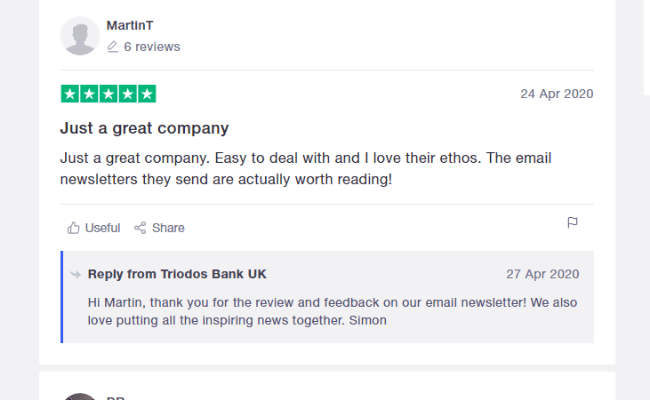 This review further illustrates the point made prior.
An interesting point about bank newsletters, I must admit I don't pay much attention to them much.
For someone to say that they are worth readings indicates to me that Triodos put a lot of time and effort into areas other banks neglect.
Next, let's look at reviews I consider to be 'middle of the road' or average.
Again, being ethical banks seems to be their main selling point.
In relation to the website, you can see the reply from Triodos (which is always nice to see) and I can testify to the fact their website has been modernized.
What this does illustrate is their attention giving to the constructive comments made by current users which is a big positive.

Fast payments have been a recurring comment that I have noticed from some of these Triodos bank reviews.
This leads me to believe that this service doesn't need improving.
Despite the fact they are a smaller bank, meaning less money to spend on enhanced and quicker systems, this should be something Triodos look
Especially when it's an additional cost service.
At the time of writing faster payments cost £20 with Triodos bank.

This is an important feature that like this user says, is hard not to come by in today's modern age.
Hopefully, this is something they will implement in the future.
On the RBS comment, Triodos says the majority of challenger banks have to use one of the 'big four' for clearing.
Last up, here are some of the more critical Triodos bank reviews.

Triodos take some extra precautions, especially when transferring accounts which is likely the reason for this customers frustration.
Having said that, a more refined validation process should be put in place to improve the speed and convenience.

Technical issues are typically rare when it comes to financial services.
Perhaps this is the compromise that users will have to take when using a challenger bank.
Overall it seems that Triodos have their core values down to a tee, but their services need some improvement across the board.
Pros
Ethical Bank
Clear Interface
Customer Service Awards
Safe And Secure
Strong Brand/Values
Variety Of Bank Accounts
Cons
No Apple Payments
Dated Processes
Issues with Faster Payments
Conclusion On This Triodos Bank Review
Triodos story and values are defiantly a breath of fresh air in the banking industry.
As a challenger bank its Triodos's job to attract a small part of the market that want an alternative to the 'big four'.
There does, however, seem to be a trade-off point between having a smaller bank, with a more intimate experience and a bigger bank with a more refined system/service.
I suppose the question to ask yourself is whether or not your willing to accept a slightly lesser quality service (in comparison to the big four) for an ethical bank with good intentions.
If you are, then, by all means, give Triodos ago.
(Note: You can't come second in the Best Bank Awards and win the Best Customer Support award without really giving it your all as an organisation)
If you aren't then you'll likely to be better suited to a bigger, more established bank.
I hope you found this Triodos Bank review helpful and if you are looking for a different bank, particularly a challenger check out these posts:
If you are looking for useful finance Softwares, take a look at  these articles:
As always be sure to leave a comment on this Triodos bank review if you enjoyed it or equally if you think I missed anything out.